ON-SITE
PRECISION BOLTING SERVICES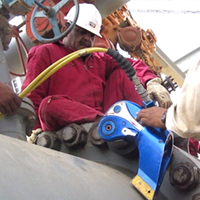 Ma'Aref 's CORE COMPETENCY & SPECIALIZATION is Bolting - Consultancy, Audits, Up-gradation and Bolting Contract Supervision - all aimed at obtaining Precision and Leak-Free bolted joint assemblies the very first time - with no need for back-up wrenches or hammers, and NO Hot Bolting.
Client Benefits

can be summarized thus:
Greatly enhanced Safety.
Time-Saving by at least half in all bolted joint dis-assemblies and re-assemblies.
Elimination of bolting-related accidents.
GUARANTEED zero-leak start-up the very first time.

NO HOT BOLTING

Longer life of Bolts and Studs.
Greater Productivity.
Never having a bolting-related maintenance outage.
Greater peace of mind for the Maintenance & Management.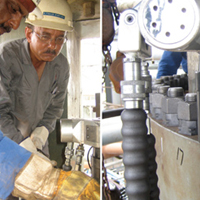 Ma'Aref further offers to prove our technology by offering On-Site Bolting Contracts. We prefer undertaking only critical, problematic and challenging bolted joint assemblies. As an authority on Precision Bolting, we carry out Bolting Contracts to prove the ASME compliant HYTORC technology to our clients as a first step towards our Clients becoming totally independent of us, by subsequently procuring the HYTORC. And we continue to remain in the background for any assistance that may be required at any time - 24/7.
As bolting specialists, we offer Solutions that will save between 50-75% bolting time in any industry, of any bolted joint - no matter how complicated or problematic. The HYTORC technology guarantees bolting precision of +/- 3% torque, & +/-5% of desired LOAD or Elongation. With the HYTORC 'LEAKAGE-ZERO' disc washer, we guarantee a 'no-leak' start-up the very first time; and that you will never have a bolting-related maintenance downtime – ever. Ma'Aref also offers a 'money-back guarantee' with the HYTORC Disc Washer. With the use of this washer comes an extended HYTORC tools warranty of 36 months – no questions asked!
To prove the technology, we refer ourselves to NRL Karachi, where we used the HYTORC 'LEAKAGE-ZERO' technology to plug leaks that had been persistent for more than 14 years! Not one of these has leaked to-date since July 2009 till their ATA in 2013. Thanks to HYTORC.
HYTORC gives the NUT a hand - while we give the INDUSTRY a hand!